RUNNERS BOOT CAMP
ABOUT THE COACH
Hi, I'm Coach Ramiro my wife and I are owners of Abba Fitness. For more than 3 decades I have dedicated my life to fitness, in particular improving as a runner. Along the way I have helped over 10,000 people have above than average results with their running, nutrition, and overall fitness.  My Mission in is to help my clients with their specific running, fitness, and nutrition goals.  But my PASSION is to positively impact your life so that it will forever change you and your family's life.
In 1999 I was diagnosed with a herniated disc and recommended back surgery (of which I declined).  I was sidelined for years from racing. During this journey I forced myself to learn everything I could about strengthening my core, building functional strength, injury prevention, flexibility, and nutrition. As a result, I implement the new training techniques to my standard running program. Along with Nutritional Timing I merged the three together and henceforth Runners Boot Camp was born.
Running has taught me many lessons and positively shaped my life.  I have run equivalent of thee times around the earth.  I was fortunate to gravitate towards coaches that produced Olympians, National Champions, World Champions, and World Record Holders.  This environment was the perfect breeding ground for me to see and learn from coaches at the highest levels.  As a Husband, Father, and Coach I run for different reasons now.  Most importantly I get to share this gift of fitness and pay it forward to those who need and want my help.
---
WHAT IS RBC
Runners Boot Camp "RBC" is an overall training, nutrition, and coaching program to help you reach your next level full potential as a runner. The purpose it to help you improve your running so that you can achieve your best.  Regardless the current stage of fitness I will help Coach and prepare for your next race.  I can guide you from 1 mile to the Marathon.
This program is for anyone that has a burning desire to improve at their fitness and running.
You do not need to have any prior training experience.
Expected results? 
This is not your traditional running program, we address all areas of your training. This is a complete program with Coaching that focuses on running mechanics, strength, speed, muscle endurance, overall flexibility, and nutrition timing.  Because of the uniqueness of this program you can expect to see quantifiable improvement with your overall running and fitness.
WHAT MEMBERS ARE SAYING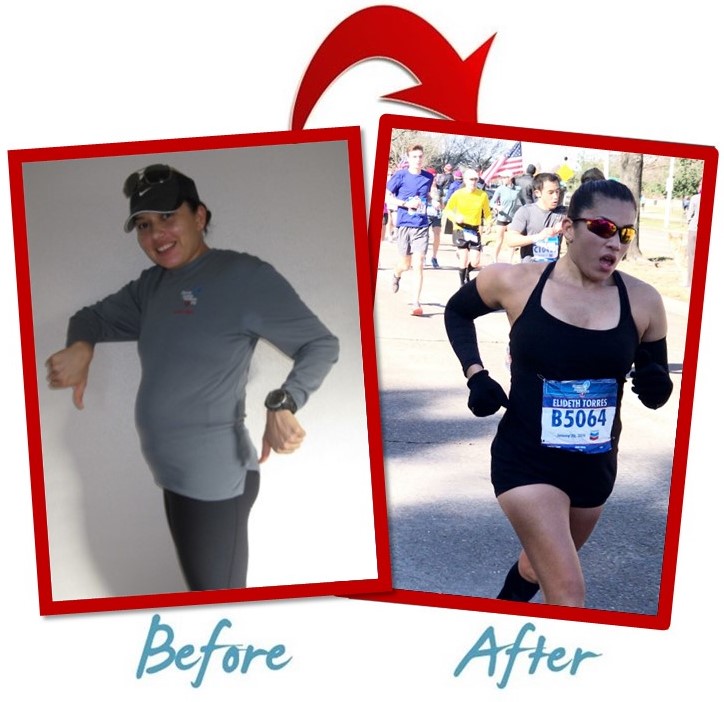 Mom of 2 runs first Marathon with a negative split-As a busy mom and business owner Eli set a goal to run her first marathon (Houston 2019).  After winning her age group at the Houston 25k she knew she had the mental toughness and physical strength to reach her goal.  With the guidance of Coach Ramiro, Eli ran the second half of the marathon faster than the first. With a great first Marathon Eli finished top 11% of all female runners and top 17% of all runners, male and female.
"The training program helped me feel so strong. Especially  through the last few miles while everyone was fading, I was getting faster.  That felt great"
---
NON-RUNNER TO NEW LIFE
Phil joined our program with the hopes of regaining control of his health.  In pursuit of improving his healthy he dropped 40 pounds and 10% body fat in only 10 weeks on our program. With a renewed sense of fitness, he set his sights on setting new goals.  Completing his first half marathon within several months and ultimately his first marathon. "The program has help me transform my life in every area.  The discipline and drive that I learned through the program now spills over to every area of my life."  
---
PROGRAM DETAILS 
This is a group training program with an emphasis on improving our running
You will receive weekly

coaching led by Coach Ramiro

We have two programs to choose from (See the schedule below for

hours)
Saturday's training sessions will start at Abba Fitness, Memorial Park, or Spotts Park @7:30am
You will also receive recommendations on Nutritional Timing

1-on-1 goal assessment

FOR THE RECORD THIS IS NOT A CROSSFIT TRAINING PROGRAM. 
We offer a 100% guarantee on our program. Our commitment is to add value to your life.  If you feel we are not meeting that standard, then simply request a refund.
FOR MORE INFORMATION FILL OUT THE FORM BELOW