Mission 100-Get Paid To Lose Weight
HOUSTON #1 RATED FAT LOSS PROGRAM
 JUST GOT EVEN BETTER
Burn Twice The Fat In Half The Time
And Get Paid To Lose 20 Pounds
So what exactly is the Mission 100 Fat Loss Program?  We are looking to help 100 people lose 20 or more pounds and when you lose 20 pounds we will pay you to do it.  Over the years I have experimented with different ways on how to help my clients lose weight, burn fat, and take inches off their bodies.  Through trial and error it has led me to this conclusion that combining our 6 Week Body Transformation and our Mission 100 Program will give you result like you have never had ever before.  Our 6 Week Body Transformation Program is one of our most successful programs where we help people from all walks of life just like yourself jump-start, breakthrough, or overcome your weight loss struggles.  During the first 10 days this also includes a 10 Day Cleanse to help reboot your body for optimal nutrition. You have to act fast though because this is the last time this year that we are going to be running this program.
I have found that working out in groups  is the most effective way to get results.  Along incorporate different training styles like short burst, high intensity, strength training, and intervals.  We will also provide you with a nutrition manipulation plan (NOT A DIET) to help give you the best results possible.
Imagine before Thanksgiving you are able to lose at least 20 pounds.  When you lose 20 pounds during the 6 weeks I will pay you in the form of 6 weeks of training for free to continue your journey.
Due to the popularity of both of these programs space is limited. I cannot take all 100 people at once. I can only offer this program to a small group of people at this time.  We are only looking for 15-17 people who are serious about getting results over the next 6 weeks. Just know that once you say yes to our program the results come FAST.
By the way THIS IS NOT A CROSSFIT GYM.  So there will not be any tire flipping, sledgehammer hitting, or any chest pumping sessions stroking our egos saying I am better than you.   Although you will get pure encouragement, motivation, positive environment, and a place for you to transform.
---
Dear Houston Heights/And Surrounding Area Residents
Hi, we are Eli and Ramiro Alvarado owners of Abba Fitness.  Over the next 100 days we are committed to helping 100 people lose at least 20 pounds of fat.  We have helped 100's of people in the past and can do the same for you if you want. We have a proven track record and a system of success. Along with our Coaching, Support, and Accountability, we make it impossible for you to fail.  All we ask is that you are teachable and are willing to take action on the things that we teach you. This program isn't for everyone it is only for people who are serious about losing weight.  If you do not have 20 pounds to lose that is okay you will just get lean and tone faster. Are you ready? If so, then now is your time to get started.
---
CASE STUDY
: See the results from people just like you who are using our proven fat loss program.
Experience The Benefits 
Unlimited Sessions      Nutrition Consultation                 Goal Setting                 Assessments

Is a busy lifestyle holding you back?  Choose from 30 hours weekly.  Morning and evening sessions available. Don't leave your nutrition to chance. We will teach you our easy follow nutrition plan and make reaching your goals a breeze.  We will help you set realistic goals and a time frame to help you reach them.  With our help this will give you the motivation and focus to reach your goal. We guarantee our results 100%. So to insure you stay on track with your goals we conduct ongoing assessments.
If you are not satisfied for any reason during the first 30 days just let us know, and we will issue an full refund no questions asked.
---
Money Back Guarantee                  Accountability                Affordable                                                     Community
Why Say Yes To Abba Fitness 
Our training programs are a fraction of the cost to hire a personal trainer. The value that we offer will give you 10 times more than any other training experience offered anywhere else. We are so confident that our program will work that it is backed by our 100% unconditional money back guarantee. O
ur program offers the accountability to ensure you reach your goals once and for all.  
This isn't your ordinary gym. You are joining a community of positive people who are after the same goals as you.  "
This is not a Cross Fit gym
".  
Getting results has never been so easy.  We have made our program so affordable for you to test drive it out.  
Don't Put Off Achieving Your Health & Fitness Goals  For Another Minute!
Normally a program of this magnitude goes for as much as $500-$600.  But by taking advantage of this Special Offer today  you get the Mission 100 , the 6 Week Transformation, and the 10 Day Cleanse for only 3 payments of $67
REGISTER NOW BEFORE IT'S TO LATE


  Frequently Asked Questions 
How can I get a Hold of you if I have a question?  
Email: info@abbafitness.com or Call 832-338-8391
What if I am a beginner? 
All of our programs are designed for any fitness level.  Beginner to advanced.
How long are the sessions? All sessions are 1 hour long with the first 15 minutes as a warmup and the remainder used for workouts.
Do you provide a nutrition plan? Yes, we with an optional nutrition consultation and plan.
Is this a CrossFit gym? ABSOLUTELY NOT!  We are not a CrossFit gym.  Anyone from all walks of life and abilities can step in to our training program and see results.
What about parking?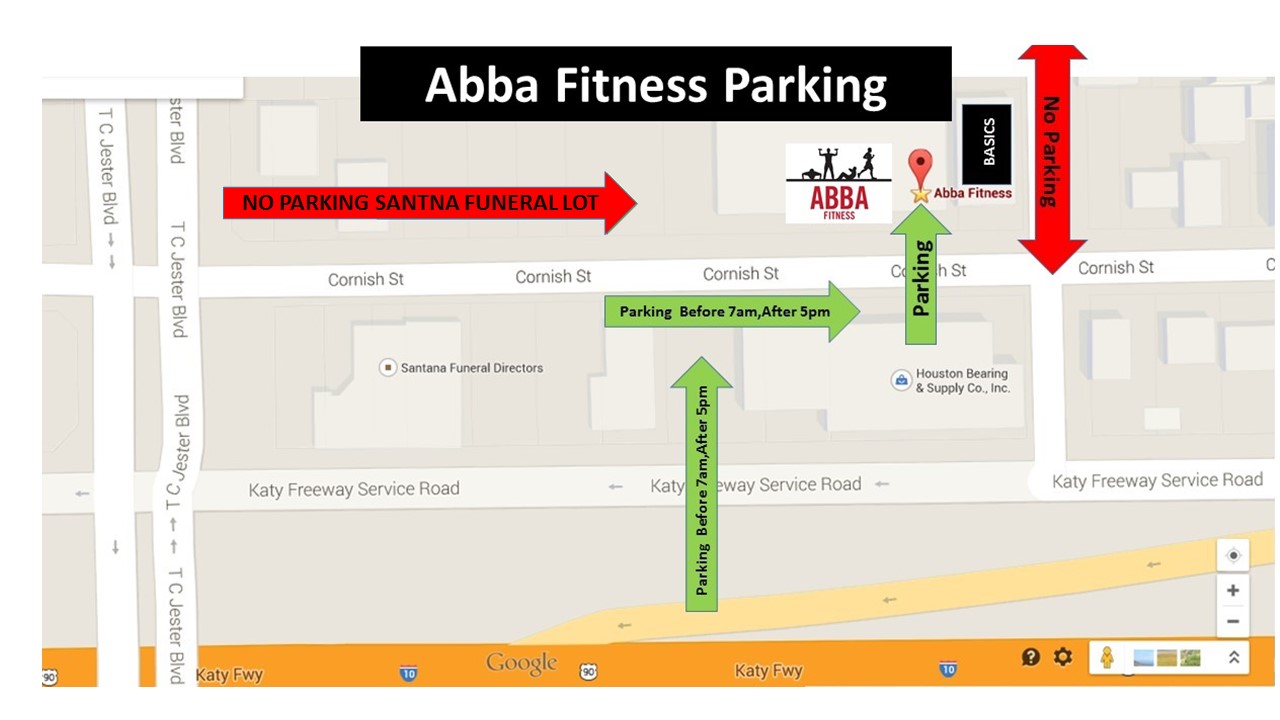 REGISTER NOW BEFORE IT'S TO LATE