ABOUT THE COACH
COACH RAMIRO
I don't have your typical success story where I am that guy that struggled with my fitness and then miraculously had a transformation.  In truth in 1984 at the ripe old age of 12 I was introduced to running out of necessity.  You see my day died when I was three and  unfortunately, my mom was regularly late picking us up from school.  For me it was just easier to run the few miles home.  Who would've ever know that one decision would impact my entire life.
Since then I've run over 81,000 miles and competed in hundreds races of which most notably a 2:29 Boston Marathon. More than all the miles that I have run it was the discipline that I mastered along the way that has helped shape my life.
I have been successfully putting into practice my skills as an athlete and coach for almost 40 years.  Best of all I have worked with over 20,000 people
reach their fitness and nutrition goals.  With an internal beacon to better my life I have been on a constant persuit to learn everything I could about fitness, weight management, nutrition, sports performance, and the mental aspect of coaching and training.
My commitment to my profession is bigger than me.  I am now in a position where I can positively influence those around me and add value to you life.
As a family man and I understands that being healthy is a balancing act. There are many roles that I play but my life's mission is simple! That is to be a value adder to people that need and want my help.
My passion though is to make an impact in you and your family's life. PERIOD!  My approach to fitness is simple. Consistency over time with a vision of where you are going.  This long-term approach has served great value to me and my clients and if you are looking for some direction and a plan to help you with your fitness goals then let's talk. One of my greatest strengths is my ability to hear what you want and help you go get it. I look forward to an opportunity to serve you.
Dont just take my word for it.  How about you  hear what my clients have to say about me and my program.

See what clients are saying about Coach Ramiro and Abba Fitness👇👇
Maureen M.-"I couldn't have found a better place to work out than Abba Fitness…or a better trainer than Ramiro. He works with each client specific to their needs…and he somehow makes 5 in the morning fun. Great energy…great guy…great place to reach my goals."
 Krista S.–"Ramiro is a great trainer who really cares about your overall health! The training sessions are tough but always safe and motivating. I highly recommend Abba fitness – I have seen great results in my first 3 months and look forward to many more successes."
Maria T.-"ABBA Fitness is the place to be when it comes to a great workout. Ramiro and Eli are very encouraging and motivating. I love the different and challenging workouts!!"
Cimalie Z.-"I absolutely love Abba Fitness and Ramiro. He is a great motivator and 'coach'."
Peter C.-"Ramiro is an energetic and supportive trainer. With his help and direction I've lost over 30 pounds and 9% body fat in the last 6 months. He always greets you by name and checks in with you regularly to make sure things are going well. His workouts vary and always push you to do better. I'd recommend Ramiro and ABBA for anyone serious about changing their life for the better."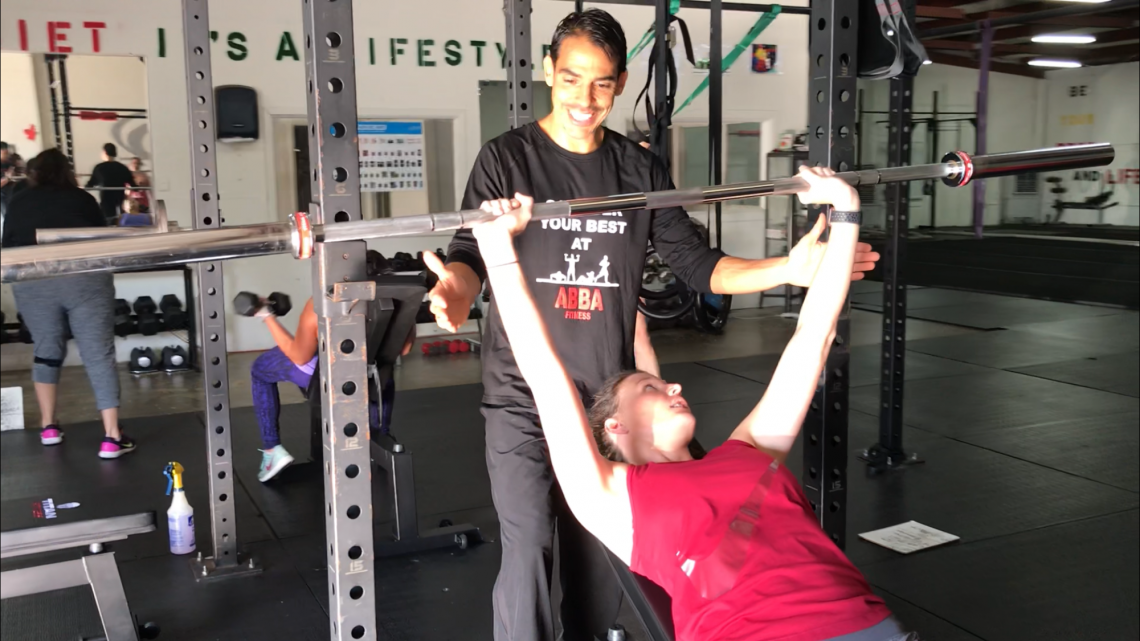 Matt S.-"My wife and I bounced around trying to find a gym we both enjoyed and that challenged us. We're both fairly athletic and Ramiro continues to evolve and challenge all levels in every workout. He modifies all exercises for people if they need it easier, harder, or tailored to an injury. It's a great work out with great people!"
Jennifer B.-"Great boot camp classes for all levels! Lots of energy and team motivation. Ramiro and Eli spread their love and light to all!!"
Melissa J.-"The results are real! Ramiro is there every step to provide guidance through the workouts and nutrition. He is very supportive and motivating. No other trainer has given me that which is why I believe in his method and will continue to work with him."
Nina S.-"Awesome place awesome people!!!!"
Sarah L.-"I love Abba Fitness! I have been going to Abba fitness since August and I have had some amazing results! I have lost 15-20lbs and gained so much muscle. Ramiro and Eli are the nicest people and I am happy to also call them my friends! Everyone is nice and its much more than a work out session, it is a family! I definitely recommend Abba Fitness!"
Jennifer B.-"Awesome workout!!"
Lori L.-"Thank you for your encouragement and help improving our health."
Jessica C.-"Amazing atmosphere with great people and insane workouts!"
Christine D.-"I love going here they push you way past the limit you think you can go … Everyone is so nice and looking to improve themselves"
Gilbert A.-"Great leader and knowledgeable person. Has a lot of passion and motivation that feeds on to his clients."
Iris L.-"I love Abba Fitness!! Ramiro and Eli are so positive and encouraging and you really see results!"
Barbara T.-"The best gym I have ever used. Ramiro and Eli are outstanding and motivational!!!"
Brittany M.-"I describe my experience at Abba with Ramiro as group personal training. Every session is always a great session."
Amanda R.-"From the minute you walk in you feel welcome. Ramiro at ABBA fitness is an amazing trainer who inspires you not just to be healthy but make positive changes in your life. The workouts never fail to be tough but you will see results and will want to keep coming back!"
Kim G.-"Amazing motivators! Ramiro gives excellent workouts that never become boring. Great atmosphere."
Christina C.-"Excellent trainer with high energy levels, good creative routines and technical experience."
Jim G.-"Ramiro is great at motivating you to workout harder each time. He also has new and challenging workouts each day!"
Lauren N.-"Ramiro's boot camps are challenging, but I actually look forward to going. He is very encouraging and shows passion for what he does."
Kelsee T.-"ABBA fitness is amazing! Not only do you get a workout that's guarenteed to give you results, you also build a gym family! If you're looking for a positive atmosphere, encouraging people, and a great workout- this is the place for you!"
Memo C.-"Best training and trainer ever. 100% recommended"
Ashley A.-"Abba fitness is the best place in Houston to work out. It's a fun atmosphere and Ramiro is the best coach and has transformed my fitness for life!"
Marti B.-"Just recently started working out with Ramiro in private session training. I researched trainers for a while but Ramiro caught me with his true and genuine passion about health, fitness, and passion to help others (regardless of your goals). He's a ball of energy that helps get you going every time you step in the gym. Pushes me to exceed what I thought I could do and is very encouraging. He's also great about educating you on what muscles you're working during each exercise so you understand why you're doing it. It's a total love/"hate" relationship during each workout 😉 I'm so excited to continue my journey with him!"
To find out more or to contact me fill out the form below and I will contact you within 48 hours. For a faster reply text us at 832-648-1417.